The Capital City Marathon (CCM) held its 35th annual event in May 2016. To commemorate our anniversary, we collected memories from people who have run in the race and/or have helped make it run. For the 35 weeks leading up to the race, one response was posted to social media weekly.
1 week out: Steven Schwartz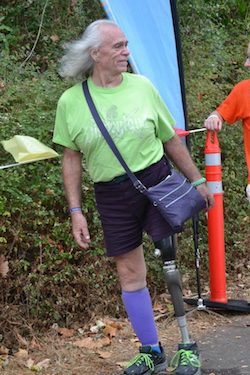 Today, with our final installment commemorating the 35th running of CCM, we recognize those who cannot run in our races, but still take part in them.
Last week we were contacted by Cynthia Schwartz, who will be flying in from London to participate in CCM next week with her father, Steven Schwartz, of Longview. While Cynthia has run six marathons since 2010, she explained why walking in the May 15th 5-mile race will be more significant:
"My father has been an above-the-knee amputee since December 1972. He has alternated between periods of using and not using artificial limbs, giving them up in the late '80s because of the pain they caused, before resuming use in 2000. It's only in the last two years - after a trip to Disneyland - that he's realized he can do some substantial walking. Since then he's been working on building up his endurance and speed, and someday hopes to be able to achieve leg-over-leg mobility. His walking journey has taken some trial and error - adjusting the socket of his prosthetic to minimize rubbing and account for swelling - but he's finding it pretty cool. And I'm excited to have found this event for us to do together while I'm home visiting from London!"
We're thrilled Steven has chosen CCM to be his first official timed distance race as a walker. We added the 5-mile in 1989 (back then, the official distance was an 8k) because we realized that completing 26.2 miles isn't for everyone.
We look forward to seeing Steven and Cynthia cross the finish line together.
2 weeks out: Steve Bloom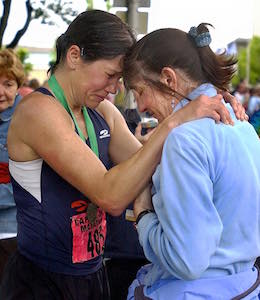 The Olympian's Steve Bloom has covered all but one of the past 34 CCMs. So we asked him if he could share the image that stands out to him the most from taking photos at all of those races. He picked this one from 2005. Pictured are that year's women's marathon winner Karen Steen (it was her seventh CCM marathon win) and her sister Leighann Warner, who was battling cancer at the time and served as Karen's inspiration to both train for and, despite falling near the finish line, get up and finish the race.
Thank you, Steve, for working so hard all these years to capture incredible moments like these.
3 weeks out: Jim Thatcher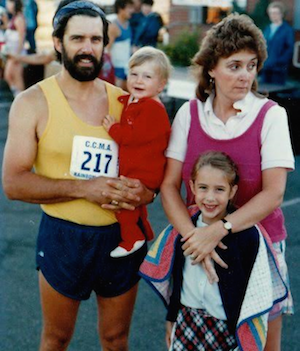 Even if you are not a runner, you are in for a treat with today's post! We have loved talking to everyone who took time to share their memories during the past 30+ weeks, but Jim Thatcher's contribution may take the cake.
On May 15, this 67-year-old will run his 32nd consecutive CCM. And it all started with the help of this year's special guest at CCM, Jeff Galloway.
Jim, now 67, takes us back to 1985 as he recounts his first CCM, which was also his first marathon.
"At 35, I was turning into a budding Clydesdale, and decided I needed to get some more exercise."
He picked up Jeff Galloway's new running book from the now-defunct Rainbow Sports and thought, " 'This makes sense! I can do this!' It was my running bible for my six-month training period."
Jim jokes he had trained for a finishing time of somewhere 4 hours and two days.
He remembers it being a warm July morning when he toed the line for the 4th running of CCM. The starting gun went off. So did he. He thought he was going slow. At the half, he was on pace to finish 3:17.
"Did it register that I had gone out WAY TOO FAST? Nooooo ... What went through my mind was, 'Gee, if I pick up the pace just a few seconds per mile, I should be able to post a 3:15 marathon!' "
And then, two miles later, it happened. He hit the wall. His brother-in-law, who was watching the race, noticed Jim was suffering a little.
"He borrowed a garden hose from a homeowner along the course, and as I approached, drenched me from head to toe. Nearly washed out my contacts and thoroughly soaked my shoes and socks. Can you say 'blisters?!?!' "
The original course had a "killer hill" around mile 22 or 23 that dropped onto East Bay Drive through Priest Point Park, Jim remembers. He had friends who had planned to meet him there with champagne for a pre-finish toast. After all, he thought he would be feeling strong and sprinting to the finish at this point in the race.
"Enter reality: With every muscle protesting, no energy and a stomach that was trying to decide what to do with too much warm, concentrated Gatorade sloshing around, I gimped to the top of the hill to be greeted by friends who had hurried out with a plastic cup of champagne for me so that they wouldn't delay my 'sprint' to the finish."
He feigned a sip or two - and a burst of energy - and began down the hill - jettisoning the champagne when he was out of sight of his friends.
When he hit East Bay Drive, he could hear the finish line, which was still some distance off.
"The cheers I heard let me know the finish line was a possibility and, yes, I began to run! The warrior spirit had returned! I felt great until a young wood nymph dashed by me with an effortless stride, turned, and, running backward and with a look of concern on her face said, 'Gosh, mister, you look awful! Are you OK? Can I run up to the aid station and get you anything?' Kind of took the wind out of my sails for a moment."
But each step brought him closer to the finish line, which he crossed at under 4 hours.
Some moments after the race, Jim was greeted by a fellow racer whom he described as having two softball-size abrasions on the inside of each thigh and looking as wiped out as he felt.
She asked him, "Wasn't that awesome?" He looked at her, and with the closest thing to a grin he could muster said, "Yeah! I'll be back!"
And back he has been, 31 times - in a row. A streak no one else can compete with.
But that's not enough for Jim. His goal is to complete 50 consecutive CCMs.
"Whether I can achieve my goal is almost secondary to knowing that the organizers will continue to make it a top-notch event for all the runners - the kids, the first-time runners, and those of us that are drawn to the event each year like a moth to the flames."
4 weeks out: Rich Brown

Today we chat with Rich Brown, another remarkable athlete and coach who has helped grow our local running community.
Rich, 43, recently stepped down as track and cross country coach at Tumwater High School, where he also experienced tremendous success as a runner before graduating in 1991. After that he ran at Montana State University and professionally for Adidas.
Rich initially became involved with CCM as an employee of South Sound Running - Olympia, Tacoma, Point Ruston, and Puyallup, where he worked the Run Fair and helped create the CCM Training Group. He was also integral in devising a plan to help local high school track and cross country programs raise funds for their teams by helping out with the training group and the race.
"The Capital City Marathon Association takes pride in helping to build a community just as much as they are trying to build a race. Without their support of the local high school track and cross country programs, my programs would have struggled to outfit kids in uniforms, travel to meets outside of our immediate area, or have the necessary equipment to help keep them safe and healthy."
His favorite thing about CCM? "I love the fact that CCM has maintained a local race feel."
Rich is also one of the founders of Club Oly Road Runners, one of CCM's partners. Club Oly paces the marathon and half marathon, and they recently started a training group for beginning runners who want to run the CCM 5-mile race.
Somehow, Rich has also found time to race CCM on occasion as well.
"My most memorable Cap City race moment was while running as part of the front pack, in a fast-paced half marathon against John Riak and Miguel Galeana. That was true until the 9-mile mark, in which they finally decided it was time to get serious and race ... needless to say, I watched the remainder of the race in a distant third."
You may not have prevailed in the race, Rich, but you are still a winner in our book. Thank you (and Club Oly) for all you've done to make CCM a success.
5 weeks out: Jeff Galloway Will Run in Milestone 35th CCM - His First Washington Marathon!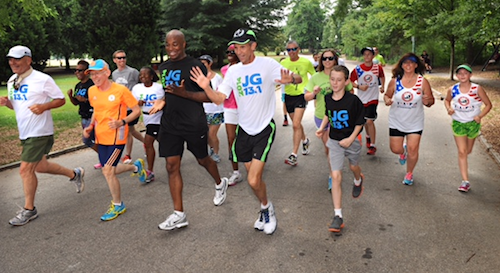 Jeff Galloway will not only be with us for Race Weekend, he HAS DECIDED TO RUN THE CAPITAL CITY MARATHON! At the age of 70, the former Olympian still runs 12 marathons a year. We are honored one of them will be with us. While he has run more than 200 marathons, CCM will be his first in Washington.
"I look forward to meeting the people in this community which is so enthusiastic about fitness and running. History was made in 1984 when Olympia hosted the first women's Olympic Marathon Trials," said Galloway, who competed in the 10,000 meters and was an alternate for the marathon team in the 1972 Olympics.
He is excited to be part of this year's milestone 35th running.
"There aren't many races in the U.S. that have been running for 35 years. This all-volunteer race engages the community and has inspired thousands to become regular exercisers. I'm looking forward to running this beautiful course with my wife Barbara - our first marathon in Washington state."
Want to join him and Barbara? Don't delay. Rates increase soon. http://regtorace.com/event/92
6 weeks out: Wendy Ferrel and the CCM Kids Run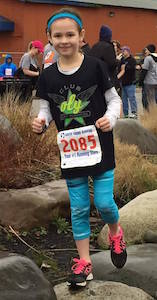 The CCM Kids Run, which began in 1989, is one of our favorite parts of Race Weekend, as it supports our mission of promoting healthy living through exercise. It is our hope that the race gives young kids a positive running experience that sticks with them for the rest of their lives.
We tracked down a young runner in our community, Wendy Ferrel, age 7, who will toe the line at this year's Kids Run on Saturday, May 14. Wendy not only ran her first 5k this year, but will attempt to finish her first "marathon" on May 14.
What?!?! A 7-year-old is going to run 26.2 miles? Yes! Just not all at once.
This year, kids in the 8th grade or younger who accumulate 25 miles before the Kids Run, and then complete the 1.2-mile Kids Run on May 14, will earn "marathon" status and receive a special prize at the end of the race. Participants must fill out and bring with them to the race this mileage checkoff card: http://www.capitalcitymarathon.org/CCMKIDSRegFlyerPrintReady.pdf
Wendy is in second grade at East Olympia Elementary School, where she participates in Track Stars, a recess running program. Through Track Stars and other local races, Wendy has already logged 18 of her 25 miles - and there are still 5 weeks until Race Day.
We asked Wendy a few questions about running and she supplied us with some great answers.
CCM: How long have you been running?
Wendy: At least 4 years. When did I start walking? 14 months? Maybe since then.
CCM: Why did you start running?
Wendy: Because I like it.
CCM: What do you like about running?
Wendy: It makes me feel happy. It's fun.
CCM: Do you have a favorite runner?
Wendy: Sure, Daddy. (Some of you probably know Wendy's dad, Matt Ferrel.)
Thanks to our generous sponsor Budd Bay CPA, the Kids Run is FREE for the second year in a row. Day of race registration is allowed, but you can also pre-register online. (Parents: You do not need to register yourselves for the race; just any kids who are participating.) http://regtorace.com/event/92
The race begins at 4 p.m. and starts and finishes in Heritage Park. Kids do not have to participate in the marathon challenge to do the Kids Run.
7 weeks out: Linda Huyck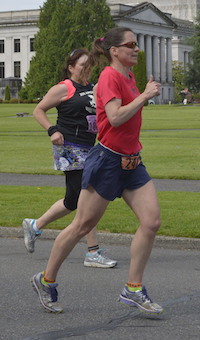 Today we catch up with another one of our community's most accomplished and inspiring runners, Linda Huyck.
Linda, 43, graduated from Timberline High School, where she currently is head cross country coach. She teaches English at River Ridge High School, where this year she is helping coach track. She loves animals, and if you've ever had the pleasure of running with her, you know she will dote on every potential four-legged friend she encounters. (And the animals dote back!)
In addition to being one of CCM's most decorated runners, Linda has also been a dedicated CCM volunteer, working a water stop with her Timberline athletes and coordinating the water stops for the CCM Training Group runs.
CCM is special to Linda for a number of reasons, not the least of which includes the fact that it was the first marathon she ever ran (back in 1997).
"When I run the Capital City Marathon, I feel all the gratitude a person can feel for her hometown. I have friends and colleagues on the course, current athletes, former athletes, and training partners, too. When I volunteer, the same holds true. I love being a part of this running community."
Her favorite CCM memory dates back to that first race.
"... three very important people were there to support me: Bob Atwell and Pat Geiger, my two high school distance coaches; and Dave Lehnis, my most influential high school teacher. Seeing them filled me with pride, and I finished that race achieving my primary goal: to finish and feel like I'd want to run another. I even cried at the end; the experience was that overwhelming."
In 2015, coming back from an injury that sidelined her for a month, Linda finished first among the women in the marathon. She also became the first woman to win all three CCM events (the marathon, half-marathon and 5-mile). She has the most CCM half-marathon wins (2003 and 2007) of any woman.
We can't wait to see Linda back at the start line on May 15 to defend her title.
8 weeks out: FREE photo downloads!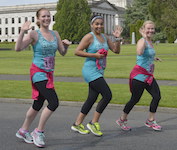 Thanks to the generosity of South Sound Running - Olympia, Tacoma, Point Ruston, and Puyallup, CCM has been providing FREE Race Day photo downloads since 2013 -- and we'll do it again this year! We'd love to see your favorite My EP events CCM photos. Care to share?

9 weeks out: Jim Lux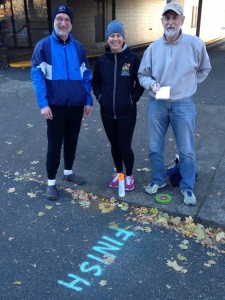 The Capital City Marathon Association's Board of Directors - along with the race director, assistant race director and other key volunteers - spends nearly a year planning, organizing and preparing for the event, which is now less than 9 weeks away. Today we chat with Board President Jim Lux, who has been involved with it since nearly the beginning.
"(CCM) adds to the fabric of this community. It's part of us," Jim said when asked why CCM is so special to him.
The first women's Olympic Marathon Trials, held in Olympia on May 12, 1984, drew Jim to the sport of long-distance running, both as an athlete and a volunteer. His mother, the late Mary Lux, sat on the Olympia City Council at the time it lobbied to hold the trials here. He was lucky enough to have grandstand seats at the finish the day 50,000 people descended upon the city to be a part of sports history.
The very next year he volunteered at the Capital City Marathon's registration table on race day. He was drafted to take on course safety the following year, and has been in charge of safety ever since.
When you figure that the course is 26.2 miles long and there can be upwards of 2,000 runners on it beginning at 7 a.m. until as late as 1:30 p.m., that's an enormous responsibility.
"Just marking the course - setting out all the cones and chalking everything - is a race in and of itself," Jim, 64, admits. "We start the afternoon before, then go out again the morning of, which means we're sometimes finishing the work after the marathon starts."
He says volunteers are essential to the race's success and one reason it stands out from other races.
"It is no exaggeration that the marathon would not exist without volunteers. This is a community event and we have purposely held on to the volunteer model. It's part of what makes our race so special, and a big reason it works as well as it does."
We sure are grateful to Jim for his 30-plus years of volunteering for CCM!
10 weeks out: Amber Cruzon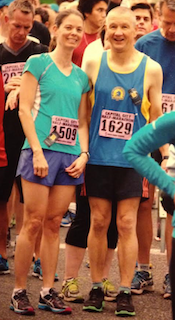 Less than 10 weeks out from Race Day! Today we chat with Amber Cruzan, a veteran CCM racer and volunteer - and the women's overall half-marathon winner in 2013.
Amber has run in about 20 CCM races since 2001, the year she first became involved in the CCM Training Group. That year she ran the half-marathon. The next year she trained with the group for her very first marathon.
"After the 10-mile (training) run, every other weekend I was running a new distance, which was challenging physically and mentally. Luckily, I had lots of moral support within the training group as I landed in a very strong and focused group of runners. I still train with some of these runners to this day."
This group helped prepare her for a strong finish (3:33:28) in her debut marathon, qualifying her for Boston.
Even though Amber now has 36 years of training on her legs, she says she still has lessons to learn about racing. "I am a frequent flyer to the (CCM) medical tent, as I am usually super dizzy after a race; I still need to learn how to fuel better!"
Happier CCM memories include 2012, when she raced the half: "Climbing up 22nd, I felt very powerful and just kept repeating, 'I love hills' to myself. I was able to pull away from Mary Hanna, an outstanding Masters runner and Seattle Running Club XC teammate, to place first in the Women Masters category." (Note: Mary Hanna holds the Women Masters CCM half record with 1:24:50)
And, of course, there was the women's overall win in the half the following year.
As head cross country coach at W.F. West High School, where she also ran cross country and track for four years before graduating in 1986, Amber has been scoring a different kind of running victory for the past 16 years: helping young athletes fall in love with the sport.
"Sharing my enthusiasm for running" is her favorite part of coaching. She also enjoys "watching kids achieve goals that at first they didn't think they had a chance at reaching."
Local high school cross country athletes such as Amber's are critical to the success of CCM. Not only do they spend rainy Saturday mornings hosting water stops for the CCM Training Group, many of them also help out on Race Day. Amber's group distributes water and medals at the finish line.
"Having the cross country kids volunteer has been very enlightening to them, as they get to see that runners come in all shapes, sizes and ages. They come to appreciate running even more."
Thanks to all of our high school coaches and athletes. We couldn't appreciate you more!
And, Amber, we hope to see you at the start of one of our races May 15!
11 weeks out: The Unofficial Race Officials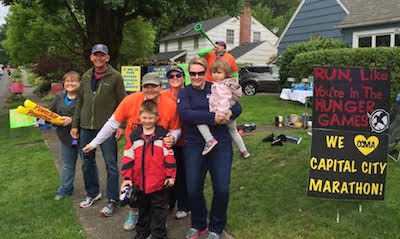 CCM is well-known for many things, including its stellar organization, rolling hills, great swag, dedicated volunteers, and spirited on-course support — including the famous "Unofficial Race Officials." If you've run CCM before, you know them because they appear at a crucial point in the race to encourage tired runners to keep on running. (And if you haven't run CCM before, this crew may make you want to!)
Who are the Unofficial Race Officials?: Lindsay Welsh (39), Kelly Welsh (37), Lana Yenne (50), and Amy Longmire (38).
"We man a cheer stop before the last uphill on O'Farrell," Lindsay said. This comes just before runners turn on to Capitol Way, whose gentle downhill leads to the Finish. "We have participated in races and wanted to support our community race with a cheer stop because it meant so much to us to have people cheering us on (when we raced)," said Lindsay. "We are out there with loud music, funny signs, lots of cowbell and cheer support."
Their dedication to and enthusiasm for this race and its racers doesn't stop there. They also organize the volunteers for CCM's registration booth during Race Weekend.
When asked what makes CCM so special to her group, Lindsay replied, "Everyone is so appreciative of our cheer stop. It is at a tough point in everyone's race and we get smiles, high fives, and hugs. Our promise is to be there for the first and last runners."
Come rain or shine, they are there. As any runner knows, one encouraging comment can make a world of difference when you feel you've nothing left to give. Thanks, Unofficial Race Officials, and everyone else who cheers for our runners. If you don't live on the course (or know someone who does), here are some great spots to show your support for our runners May 15: http://www.capitalcitymarathon.org/viewingsites.html.
12 weeks out: Jesse Stevick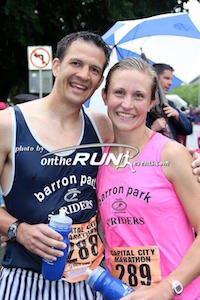 During the past decade, the name Jesse Stevick has become synonymous with CCM. The 34-year-old Olympia High School science teacher has more CCM wins than anyone. We caught up with him as he trains to run his 11th CCM in May, looking for win number 10.
What makes CCM so special to this Olympia High School alum who is now their head coach for both track and cross country? "It is pretty neat to have so many people cheering for me by name in this race; many who I know, many who I recognize from training runs during dark/wet mornings, and many people from year to year who I see running CCM. It is a huge gathering of a great running community, and it seems like the running event in the community at which you can expect to see nearly everyone who has anything to do with running, whether they are running in the race or volunteering."
When he can, Jesse also volunteers for CCM, helping his wife Jenny — herself a two-time CCM winner — who directs the Kid's Run. His favorite CCM memory involves her.
"In 2010, I lost to John Riak when my wife, Jenny, won the women's division for the marathon, and we thought it would be really fun to both win in the same year. So, in 2012, when I heard she was leading midway through the race, I thought to myself that this was going to be the year! I thought I was comfortably in the lead; however, a marathon is a long way, and so while I was feeling terrible toward the end of the race, but still thought I had a large cushion of a lead, I was completely surprised when Josh Klimek pulled up right beside me with about 400 meters to go. The only thought that went through my head as I was starting to black out trying to sprint for the finish line was, 'I can't tell Jenny I lost again when she wins.' That was enough to inexplicably fuel me to victory, but it definitely goes down as the most terrifying racing moment when, with no indication from any onlookers that another runner was anywhere close behind me, Josh pulled up right next to me in the last .2 miles of that race."
Jesse and Jenny made CCM history that year, becoming the first husband and wife to sweep the marathon.
Could that sweep happen again? Jenny may have given birth to their fourth child Wendell 3 months ago, but like Jesse, she's training to run our 35th race in May. We also hope to see all the other Stevick kids, Wesley (7), Gemma (4) and Ginger (2), at our Kid's Run on May 14. This free event is open to kids in the 8th grade and younger.
13 weeks out: Tammy Herzog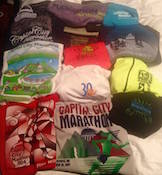 "My first race with Capital City Marathon was the 5 miler in 2004. In 2005 I trained for my first half. I have so many great memories. The best part is the friendships I have made in this community of runners. Honestly, it is the best therapy sessions a pair of running shoes can buy. The Capital City Marathon is such a great home town race and I look forward to it every year ... I promise it is the best roller coaster ride ever."
14 weeks out: Angela French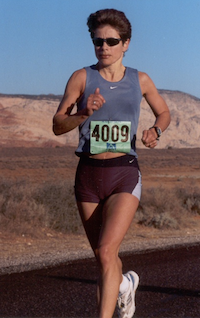 With the 2016 U.S. Olympic Team Trials happening Saturday, we thought it would be fun to check in with South Sound's legendary Angela French. Angela, 57, not only ran the very first women's trials here in Olympia in 1984, she went on to run in five other trials. Angela shares memories from the trials and other events, her favorite places to run in Olympia, what she is currently training for (we hope to see her at CCM in May!), and who she is pulling for in Los Angeles tomorrow.
HOMETOWN: Grew up in Tacoma. Ran for University of Puget Sound ('81). Lived in Olympia area for 2 years after college, then moved to Arizona from 1983-2001.
YEARS RUNNING: Started as a junior in college. I think it's about 38 years now.
WHAT WAS IT LIKE TRAINING FOR AND RUNNING THE FIRST OLYMPIC TRIALS FOR WOMEN? At the time I ran the first trials, I was living in Arizona and trying to scratch together a living as a professional triathlete, but the marathon captured my attention, especially because it was in Olympia and I knew every footstep of the course. Honestly, if it had not been in Olympia, who knows, maybe I wouldn't have caught that "marathon trials" bug.
FAVORITE MEMORY FROM THE '84 TRIALS? That it was in held in a town I was very comfortable and familiar with and it meant my family and friends could all come out and share the day. I felt like I was in a parade waving to all the people cheering, "Go, Angela."
DO YOU REMEMBER YOUR TIME/PLACE? Honestly, I don't remember. Each of the six times I qualified, it was near the cut-off time so I was never near the front at any of the trials events. My goals have always been to just do the best I could. And at the time of the first trials, I would have been triathlon training as well - not the most conducive training for fast-running times. I was never strictly just a runner; when I lived in Arizona I competed in bicycle road racing, triathlon, mountain bike racing, and running. I just always directed my training into running a little more each time the trials came around.
FAVORITE RUNNING MEMORY? Besides the combined memory of six trials events, a few others share equal billing as favorites: running in races in far-flung places like Japan and Mexico City; PRs set on the road (especially my marathon PR set in St. George, Utah); and running on trails, most notably a double crossing of the Grand Canyon with five women (one of whom was celebrating her 70th birthday), and two separate trips around Mt. Rainier on the Wonderland Trail, once when I was about 21 and then again three summers ago.
FAVORITE PLACE TO RUN IN OLYMPIA? On the Chehalis Western Trail, or up at Capitol Forest.
NEXT RACE? I don't know. I'm so out of race mode. But I hope to run the half marathon at the Capital City races and the inaugural Olympic Trials Legacy Marathon on July 16 in Olympia. I will probably run a few others to get in shape for that.
WILL YOU WATCH THE TRIALS THIS SATURDAY? I hope to.
ARE YOU ROOTING FOR ANYONE IN PARTICULAR? How about Desiree Linden? I love watching her. She looks like a classic marathoner to me. And I love the aggressive, go-for it approach she has shown in the past. my favorite in the men's race will be Meb. He's my favorite under any circumstances, but also because I gotta root for the old guys!
15 weeks out: Molly Ivanovich and Abby Mondau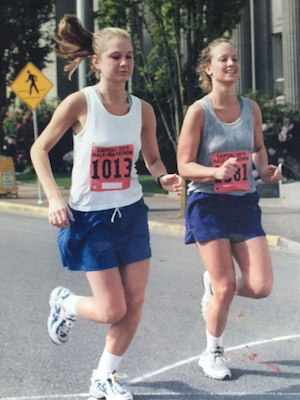 CCM takes great pride in being a race that attracts a lot of locals. After all, without the tremendous support of the community, there would be no CCM. Today we talk to two women, Molly Ivanovich (35) and Abby Mondau (36), who grew up in Olympia. As kids, they ran a lot for fun, but never on a team or competitively. They both credit CCM with giving them the running/racing bug.
It all goes back to their first CCM in 1998, their senior year of high school. Molly shares on behalf of both of them their favorite CCM memory. "We signed up the day before and then thought, 'Okay, what do we do now?' Neither of us ran track or cross country. We just liked running ... together. We had heard all the hard-core runners 'carbo load,' so we left (the Run Fair at) Sylvester Park and went to Bayview and bought the mother load of carbs: bagels, power bars, bagel power bars, and of course, Gatorade. We went back to my house and 'carbo loaded' until our stomachs had more carbs than the Olive Garden.
"Next morning, surprisingly not ill (from all the carbs), but with insane butterflies in our stomachs, we made our way to the starting line. Looking back, I can't remember if we actually knew the exact distance of a half marathon, but, by golly, we were going to give it a whirl. As the race began Abby and I vowed to stick together. And as it went on, and on, and ooooooonnnnn, we kept that promise the whole time. We crossed that finish line in 1 hour 47 minutes, placing first in our age division. I'm pretty sure '19 and under' was not the most competitive age group that year, but we carried that little glass trophy with such IMMENSE pride. It still sits on my dresser today."
Since then, they have run more than 10 CCM half marathons combined. Molly has run 2 CCM marathons. She enjoyed pacing the marathon last year with friends.
The weeks leading up to CCM are a special time of year for these friends. Molly says she gets "a smile on my face every winter when that banner appears advertising for CCM." Growing up, she remembers reading The Olympian "about who were the winners and looking at the pictures of all the racers, thinking to myself, 'Someday that is going to be me.' Now I find myself getting to run with friends/runners I've looked up to for so many years. I feel so lucky to live in Oly with such an awesome running community that just keeps growing."
Molly and Abby both plan to run CCM again this year. Abby, owner of Abby's Cookies & Cupcakes, is proud to be a race sponsor for the first time. Lucky CCM runners: Her delicious creations will be waiting for you at the post-race celebration!
16 weeks out: Renee Fullerton

As we celebrate our 35th race this year, we wanted to give the entire running community a gift as thank-you for your support. Olympian Jeff Galloway will be with us for the entire weekend, and there will be many opportunities to spend time with him. (We'll highlight them next week, but you can find information on our web site now.)
The Galloway Method, which combines intervals of running and walking, is how some of our runners, including Renee Fullerton, choose to train.
Renee is the mother of a 2-year-old and 8-month-old. She has been a runner for about eight years, but hadn't been running regularly after her children were born.
That changed this past fall. "My childhood best friend asked me to be her matron of honor and wanted to go jogging the morning of the wedding like we did on my wedding day back in 2010. My second daughter was born in May 2015 and I hadn't gone running since the first trimester of my pregnancy. I had to get back moving fast! I started the Couch to 5K program in October and was really happy to be able to keep up with her on the morning of her big day."
Renee has participated in CCM before, but not as a runner. This year will be different. "I am a very goal-focused person so I knew if I wanted to keep on running and improving after finishing Couch to 5K, I needed another goal. I have volunteered for the CCM, but haven't run it. The timing was right for the 2016 CCM to be my next big 'reason to run.' While it's a stretch goal, I'm working to train reasonably so I don't hurt myself upping the miles."
She was once wary of the run/walk method, but believes it will keep her injury-free. "When I did long distances previously, I always thought the short intervals like that would drive me nuts, but so far it's gone really well! I think I might be a convert."
As if training for a half-marathon with two little kids weren't inspiring enough, Renee shared why running is so important to her: "Running is wonderful. It's been a big part of my success in losing and keeping off 100 pounds. I haven't kept running because of the weight loss alone, though. That would be a slog. I run because I find joy in it. Find exercise you love and workouts become a pleasure."
So true, Renee!
Renee has run half-marathons in the past, but is not looking to PR in May. "In this race my accomplishment will be finishing and feeling good about my effort. There's plenty of time to go for PRs in the future. I'm also looking forward to seeing my little girls at the finish line. They are 2 years and 8 months old, so it's not like they will "get" the idea of a race, but I think they'll have fun watching the party."
They may not "get" the idea of the race, Renee, but they definitely "get" what you are modeling for them by making good health a priority. Look forward to seeing you - and your girls - at the CCM Finish Line in May!
17 weeks out: Jessica Juergens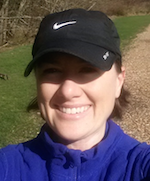 Jessica Juergens, 36, started running just a little more than a year ago -- and she has the bug! She never envisioned running a half-marathon. But after she tackled her first 10k in November, something changed. "I was ready for a physical and mental challenge that would push me out of my comfort zone. I've never run more than 6 miles and the half felt like the next step in my running journey."
We're excited she is participating in the CCM Training Group as she prepares to race this distance. "As a busy mom, the idea of not having to plan out my route each week for my long runs was really appealing. I could just show up and run, knowing that hydration would be covered and I wouldn't have to pack water around. As a newcomer to the sport, I appreciate the pre-run lectures on injury prevention, nutrition, etc."
Jessica chose CCM as her first half because she has "many friends who've run the CCM and encouraged me to do it; they loved the course and the strong community support."
This year's Training Group started last week and so far, she says, "It's been a great experience. I never thought I would say this, but I'm really looking forward to our next long run. I'm excited about increasing my mileage beyond what I've ever done. I've learned over this past year that my body is capable of so much more than I had previously given it credit for. It's really empowering."
We can't wait to hear how your 8-mile long run goes Saturday, Jessica! And we think others will appreciate your race day goal as much as we do. "My goal is to show up for race day feeling strong and well-prepared, and, when the going gets tough, knowing I can fall back on my training to get me through."
With about 16 weeks until Race Day, there is still time to join the Training Group. Visit the Olympia South Sound Running - Olympia & Tacoma to register.
18 weeks out: Pizza! Pizza!


Since 1987, we've had it at our finish line. Our post-race refueling options have always been appreciated by our racers. And we take great pride in having food that is locally made and locally sourced. Big thanks to Vic's Pizzeria for feeding hungry CCM runners in recent years.
19 weeks out: Dianne (Johnson) Foster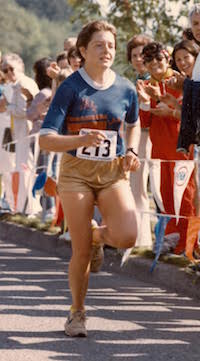 Dianne (Johnson) Foster not only was the first female finisher of the first CCM, which was her first marathon win, she went on to win four more (1986, 1988, 1989, 1990 CCMs. Today she shares her story from that first CCM -- which includes a tight race with a hometown favorite -- and its connection to the person she eventually married.
"In the 1982 Capital City Marathon (the 1st annual), I found myself in a dual with Angela French at around the 10-mile mark. Even though I had about a 10-second lead over Angela heading along the Yelm Highway, I heard one of the spectators cheer for Angela when she ran by, saying, 'You're the first female!' My hair was cut fairly short and Angela was wearing a pink hat - that probably confused them.
"Angela closed the gap around the 13-mile mark. Needing a pit stop, I told her I would catch her as I stepped into the sani-can at the corner turning on to College Street. Returning to the race, I could see the pink cap way up the street, probably about a minute or two ahead of me. Interestingly enough, I got a couple reports back from a friend of Angela's who was riding his bike. He said she was 'worried about me.' That gave me some confidence.
"The gap to that pink hat was closing with each mile. Finally, I caught her at mile 21 and passed her easily. I know Angela wanted to win that race because she is from Olympia and would be the hometown hero. But I had never won a marathon before and the thought of winning kept me going strong.
"Running down the hill under the bridge by Priest Point Park was exhilarating. People were standing on the bridge and cheering. The last mile along Deschutes Parkway was lined with spectators. It was amazing! An older man on a bicycle rode beside me, ringing his bell and yelling "first female!" They had it figured out now! I broke the tape with a time of 2:57:16.
"Part of the story of my first marathon didn't reveal itself until 1990, when I met Jeff Foster at a running race hosted by the Fort Steilacoom Running Club. It turns out that Jeff was the course chairman for the first Capital City Marathon in 1982 and also helped with the organization of the Women's Olympic Marathon trials held on the same course in 1984. Our paths had already started to cross at that first Capital City Marathon. Maybe he unknowingly set up the course in such a way to benefit his future wife."
Dianne, 55, has not ruled out running another CCM. (It would be her 12th.) How fun it would be to share that experience with her son?
"Who knows, maybe Nathan will get the marathon bug and we can run together, keeping the Foster ties with one of the greatest marathons in the Northwest!"
Photos are from the first CCM in 1982 and the fifth CCM in 1986, when she ran her fastest CCM in 2:51:10.
20 weeks out: Larry Weber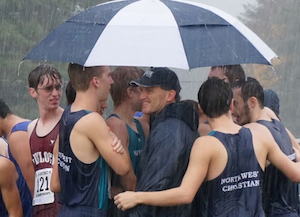 We are about 20 weeks out from our 35th Race Day! Today we salute Larry Weber, whom many of you know as the incredibly successful coach of Northwest Christian High School's nationally ranked cross country teams. Larry is also a gifted athlete. Perhaps his most impressive title is that of "Ultimate Runner," a competition that determined the world's best all-around runner. It consisted of a 10k, 400 meters, 100 meters, 1-mile and marathon - all run the same day. (The competition no longer exists.)
Larry says some of his greatest memories of CCM surround the athletes he has coached over the years, including "five past Capital City Marathon winners — Susan Havens, Karen Steen, Linda Huyck, Gary Cooper and Phil Jasperson. I also coached Susan, Linda and Karen in the U.S. Marathon Olympic Trials. Running on the Capital City course in training or racing prepared each of these runners for the Olympic Trials in different ways."
"Watching each of the runners I've coached come down the final stretch of the marathon near Sylvester Park has quietly brought me a lot of joy throughout the years as well. It is a wonderful feeling to see the smiles on the faces of the athletes you coach as they cross the finish line."
If he had to pick one standout memory? "Possibly my favorite memory ... was watching an athlete that I coached run the Capital City half-marathon. It was Josiah Price's first ever race. Josiah was a swimmer in his youth who wanted to give running a try. Try he did. Josiah won the race overall in his first ever race! His half-marathon victory led to a running scholarship at a local university. It was an incredible blessing to watch someone unwrap a gift they never knew they had."
The Capital City Marathon is a family affair in the Weber household each spring, as his wife and daughter help out with the awards on Race Day.
You can learn a little more about Larry in this Thurston Talk story:
http://www.thurstontalk.com/2015/12/14/larry-weber-coach/
21 weeks out: Environmentally Responsible Race Course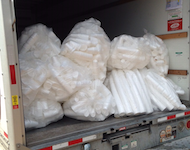 Thanks to DART Keeping runners hydrated is important, and we do it responsibly. Since 2012, CCM water stops have used a recyclable cup (ok, more like 16,000 cups per year) approved by the EPA, FDA, Health Canada and Environment Canada as a nontoxic product that is not a danger to the environment or human health. Big thanks to Dart Container for helping us take care of our racers and the environment!
22 weeks out: Capital City Marathon Endowment Fund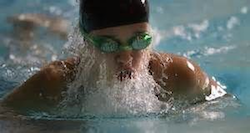 We are excited to announce we have awarded our first grant to a local program that personifies the Capital City Marathon Association's dedication to promoting and modeling healthy living through exercise and good nutrition.
The Bears and Wolves Swim Camp will receive an $1,800 grant from the Capital City Marathon Endowment Fund, which was established in 2011 through The Community Foundation of South Puget Sound.
Learn more about the grant recipient here:
http://www.thurstontalk.com/2015/12/14/capital-city-marathon-grant-swim-camp/
23 weeks out: Greg Klein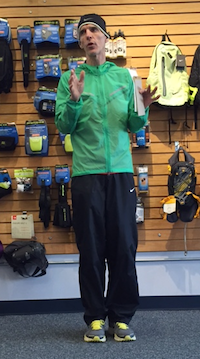 It's fair to say that the South Sound running community would not be what it is today without Greg Klein. In addition to being an accomplished runner - if you've lived in the area for any length of time, you've undoubtedly seen him running around Capitol Lake at least once - Greg owns the oldest full-service specialty running store in South Puget Sound, South Sound Running - Olympia & Tacoma.
Currently there are three locations (Olympia, Tacoma and Puyallup), with a fourth (Point Ruston) opening in January.
Greg opened the Olympia location in 1998. He hosted his first booth at the CCM run fair that same year and has enjoyed using that as an opportunity to hold an annual clearance sale there ever since.
"CCM is a great community event. Everybody who is involved with the local running scene is there," Greg said.
One of his fondest memories is from the 2004 CCM, when Joan Benoit Samuelson and other women from the '84 Trials visited.
The CCM Training Group, which South Sound Running plays an integral role in, has turned countless novice runners into marathoners, some of them racing their way to top finishes at CCM and other marathons. You can find more information about the 2016 group here: http://capitalcitymarathon.org/training.html
Just as our local running community would not be as thriving without South Sound Running, CCM would not be as successful. We thank Greg and everyone else at South Sound Running for helping make CCM the great event it is.
24 weeks out: CCM Training Group 2016 CCM TRAINING GROUP REGISTRATION OPENS DEC. 5!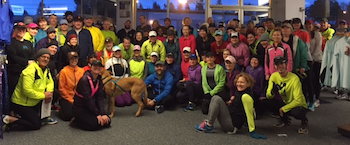 The popular training group, which started in 1983, has been around nearly as long as the race itself, helping novice and experienced runners alike achieve race day success.
2016 participants will receive a super cool sling-style bag with a custom patch to mark the 35th year of CCM. Group runs include planned water stops and brief pre-run lectures.
Group kick-off breakfast is Jan. 9; first run is Jan. 16.
Register in person at the Olympia South Sound Running - Olympia & Tacoma to train for the half-marathon and marathon.
25 weeks out: Lesley Roberts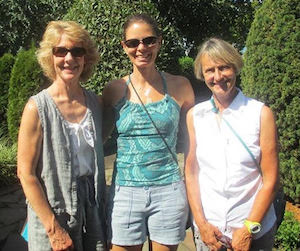 Where would CCM be without Lesley Roberts, who held the title of race director longer than any other director (from 1993-2011)? An accomplished runner and a tireless volunteer, the imprint Lesley has left on the local running community is indisputable. We are grateful she was willing to share her thoughts on and memories of CCM.
"Hard to believe that 35 years ago, a small group of runners got together and decided to put on a marathon in Olympia. They came up with an idea to run through the three local cities of Olympia, Tumwater and Lacey. And what better way to get local runners interested in taking on the challenge of 26.2 miles than putting on a weekly training run, complete with training talks and water stops. Oh, and they did it as volunteers.
That tradition continues. The Capital City Marathon is put on by volunteers. Titles are great, like race director, but the job is being done by someone who just wants to be sure that it is a great event. Making Capital City a memorable experience for both the old hands and the new ones is what matters. This race is put together by runners for runners."
Watching the first CCM in 1982 made Lesley want to run her first marathon, despite being discouraged from participating because she's a woman.
"I remember watching the first race. It inspired me to try a marathon, even though I was told that it would be hard for a woman to run that far. So the gauntlet was thrown down and I joined the training group. Week after week, regardless of the weather, I ran those training runs. I met some great training partners and we pushed through. When race day arrived we were nervous but excited to finally go the whole distance. Since we had trained on the course it was easy to anticipate the ups and downs. But to be honest, those last few miles back into town seemed hard. Going over a curb felt like a mountain, but in the end, the cheering crowds at the finish line made it all worthwhile."
As challenging as running a marathon is, Lesley says working one is harder.
"Participating in a race is much easier than working one. I had the honor of being the race director and each year, when someone asked if I was running the marathon, I would smile and say 'yes.' I have no idea how many miles I did over the course of the weekend, but it sure seemed like a lot. Working with a dedicated crew of volunteers helped make the event one the best in the Northwest, and the tradition continues with the new race director and her crew. Capital City will always hold a special place in my heart. Not only did it start me on a long and successful running career, but it also made me realize the importance of volunteering."
26 weeks out: Jerry Miller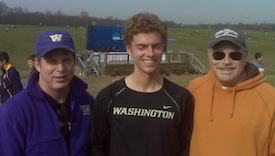 Chances are, if you have been an Olympia School District student or parent during the past 40 years, you know Jerry Miller. The now-retired teacher continues to coach track and cross country at Capital High School. He has also been a volunteer for and supporter of CCM for nearly 30 years.
"Running has always been special to me, so that makes the CCM special. I've had many friends run the CCM, but probably the volunteers and people I've met through the years stand out. There is nothing better than being involved in a project where everyone comes together to create something good for the community."
Jerry first volunteered for CCM in 1987. He reflected on some of the changes that have occurred since then.
"One of the first memories I have of the CCM was attending a board meeting where the topic of discussion was whether to raise the entry fee from $10 to $15. Some thought if we raised it to $15, no one would come. We settled on $13." (Can you imagine?!?! $13 to run a marathon?!?!)
"Another important memory was when Race Director Russ Chadwick presented to the board the idea of moving the finish and start to Sylvester Park ... We also added a half marathon at that time."
The race start and finish moved downtown in 1988. The former start was at the old Westwater Inn (now Red Lion) on Courthouse Hill; the finish was near Marathon Park.
The half marathon was added in 1993 and has had 18,040 finishers to date.
You can learn more about Jerry, who was recently inducted into the WIAA Hall of Fame, in this Thurston Talk story:
http://www.thurstontalk.com/2015/11/18/jerry-miller-capital-cross-country/
27 weeks out: Fred Cook

Our enthusiastic and loyal volunteers set us apart from other races. Take Fred Cook, who was inspired by the '84 Olympic Trials hosted here in Olympia to volunteer for CCM. He started as a "hugger," assisting people across the finish line, in 1985. He took on a water stop the next year. Nearly 30 years later, he is still hydrating racers.
"It's just become a fun thing to do once a year," said Cook, whose festive Mile 14 water stop is at Woodard Bay. "And you get a lot of appreciative feedback from the people who are happy to see you out there volunteering. It's a good feeling to be part of such a well-run volunteer organization that is doing something good for our community."
Cook's family, including his three grandsons, helps at his water stop. And to hear him speak of the runners, you'd think they were all relations meeting for some sort of holiday gathering. "You get to see people you haven't seen all year, and meet new people. It's an extended family thing."
Cook, 72, is not a runner, but says you don't need to be to enjoy the experience. "There's something pretty special about seeing people that you know, and even you don't know, who have continued this regimen for such a long time," Cook said of the people who spend months training for the race each year. "Their commitment to being physically fit may make them committable," Cook joked. "But seeing their sense of accomplishment out there on the course, that's pretty inspiring."
To become a volunteer, register here: http://regtorace.com/event/92
28 weeks out: Karen Steen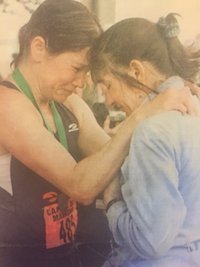 Get out your Kleenex. Today we hear from local running legend Karen Steen. The Timberline High School and PLU alum had been a successful - to say the least - sprinter/hurdler before she made the leap to marathons. Karen's first attempt at running CCM ended in injury before the race. That didn't keep her from coming back the following year, when she made it her goal to finish under 4 hours and without walking. She ended up shattering her goal, placing 3rd and qualified for Boston.
"What started out as me wanting to run one marathon, hooked me into 14 more, 7 that were Capital City Marathon wins."
Karen won CCM in '96, '99, '00, '02, '03, '04 and '05.
She shares the inspiring and tear-inducing story of her 2005 CCM:
"My sister had been diagnosed with colon cancer. It had been a hard year to train - emotionally and physically. I spent a lot of time with my sister going to treatments. On the day of the race, my sister, Leigh Ann, came out to support me and to follow me around the course. She played U2's 'Beautiful Day' blasting out her window of the car as she drove past me. As I was about 100 meters from the finish line, I collapsed. My legs and body gave out. I fell all the way to the ground. I hit the 'wall.' It felt like I was in slow motion. I could see myself going down, but I couldn't do anything about it. I could hear the crowd gasping. People started to run out to help me. My husband was yelling not to touch me because if they did I would be disqualified. I managed to stand up and run to the finish line. My sister was there. We hugged each other with our foreheads together, crying. I have never fallen in a race before. This seemed so symbolic. If my sister could be so brave to fight cancer and battle treatments over and over again, I could be brave enough to run 26 miles and fight through the pain and the agony of wanting to quit, especially after I fell down. My sister died the next year. I have not run a marathon since. That was my 7th Capital City win."
Karen continues to run - and inspire others - today. She has more CCM wins than any other woman.
29 weeks out: Tony Phillippi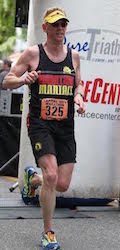 South Sound runners know Tony Phillippi. When he's not busy as Race Director of the Tacoma City Marathon or co-founder of Marathon Maniacs and Half Fanatics, Tony makes time to run. In the 23 years he has been a runner, this 54-year-old has finished 265 marathons/ultra-marathons (and counting). Tony has run CCM 16 times; 13 of them in consecutive years. Today he shares one of his most memorable experiences, his first BQ.
"(In 2001,) I'd had hopes of qualifying for the Boston Marathon. Training was good and the weather was perfect. We didn't have GPS back then so we had to rely on the race mile markers for pacing. They are always spot on. I was on pace with not much room to spare through mile 20. I knew I had to really dig deep to finish in 3:15. I stopped recording my splits the last 10k and just ran as hard as I could. The finish line is one of the sweetest in all the marathons I've run. The gradual downhill the last mile feels so good! As I neared the finish, all I could see was the half-marathon clock running. I don't think it had been switched to the marathon time yet. I sprinted as hard as I could across the finish line and pushed the stop button (on my watch) without looking at my finish time. I received my medal and water and wandered over to the recovery area. I knew it was going to be close. I walked around for a couple of minutes and finally got the courage to look at my watch. I would need anything under 3:16:00 to get into Boston, my watch read 3:15:38, I let out a big "YES," raised my arms in the air, and did a little dance! I was finally going to make it to the Boston Marathon. Since then I've run 14 consecutive Boston Marathons and always look forward to toeing the start line a month later at Capital City.
How many of you have BQ'd at CCM? Did you do a little dance to celebrate? (C'mon. You know you did!)
30 weeks out: Amy Larson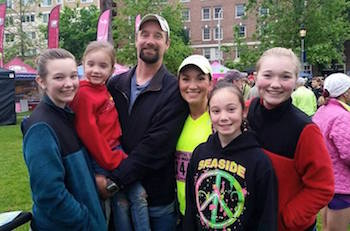 Amy Larson is one of the tens of thousands who has run and enjoyed the CCM half-marathon. Before she started running 5 years ago, this 40-year-old mother of four girls never considered herself athletic.
"Running seemed like something so beyond me that I never really thought about it until a friend entered the Capital City Half Marathon and encouraged me to do the same. She might as well have suggested I take a trip to the moon at the time, but the suggestion stuck with me. I had recently given birth to my fourth child and in an attempt to get back in shape I was already walking about 5 miles a day. I thought, '13.1 miles? That's terrifying! Let's do it!' So, I began to train ... slowly jogging short distances at first ... and I am not being modest when I say 'SLOWLY.' It was awkward, difficult, and wonderful all at the same time."
In 2011, CCM's 30th anniversary, Amy ran her first half. "Two good friends and I stood anxiously at the starting line. As I looked around, I began to panic, 'What am I doing here!? I don't feel like I belong.' But then, we started to run. All of that worry about not being a runner, or not belonging at the event washed away. It was just me, the pavement, and my will to finish what I had started. I ended up finishing in 2 hours and 24 minutes, and let me tell you I was HOOKED."
She has since run 8 half-marathons, but CCM is her favorite. "It's partly because it was my first, and partly because so many people come out to support us along the beautiful course. People sit outside of their houses along the way and either cheer or play inspirational music to help spur us on. 'The Eye of the Tiger' is my personal favorite. One woman brings her cowbell and drives to different locations along the course, just encouraging and cheering us on. I love the feeling of community, of being part of something bigger than myself, and the opportunity to show myself (and my children) to never let fear keep me from pushing myself out of my own comfort zone. I hope to run this race with my own daughters someday."
Thanks for sharing your story, Amy, and for being so loyal to CCM. Can't wait to have you back for our 35th in the spring. We'll look forward to watching your girls run with you someday, too.
31 weeks out: CCM is first race in WA to use timing chips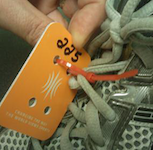 In 1998 CCM was the very first race in Washington to use timing chips tied to shoes. At that time, the technology was brand new, having been used in only a handful of races around the country.
Recalls Board Member Glenn Briskin of the first CCM with timing chips: "We had to cut them off people's shoelaces. That meant that wobbly finishers had to stop, put a foot on a stool, and keep their balance. One guy had dropped the chip into his tight shorts instead. (The race director) and I stopped him to figure out what was going on. He fished the chip out of his shorts. We had him hang on to the chip and deliver it himself to the bucket."
Today, chips are embedded in our race bibs.
32 weeks out: Glenn Briskin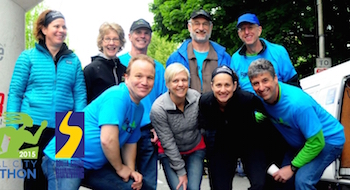 Meet CCM Board Member and Finish Line Coordinator Glenn Briskin, who has been a runner for 46 years and a CCM volunteer since nearly the beginning. The finish line looked a lot different in the 80s ...
"At that time we built a big scaffold over the street to create a finish line, had to pull tags and use Chronomix for timing, and greeted every runner with a volunteer escort through the chute."
He says there are two things that make CCM so special to him: "I like being part of the Board and the volunteer effort. Every year I'm impressed with the group that has come together to organize and ensure a high-quality event. The other thing is the inspiration I get from seeing people accomplish their dream or goal by finishing the marathon. That's why I'm so attached to the finish line."
Glenn expects his work with the Board to come to an end in the next few years as he works toward retirement. "I'm honored to have been able to work with such a good event and a great group of people all these years. I'm proud of the efforts made to keep the race an all-volunteer event. I will always admire (former CCM Director) Lesley Roberts' efforts to build up the race and achieve a solid financial foundation. It allowed us to create the Capital City Marathon Foundation, which will contribute to the community in perpetuity."
As we gear up to celebrate 35 years this spring, we'd love for you to share your fondest memories or thoughts about what makes our event so special to you. E-mail Katy at admin2@ccmaboard.org.
33 weeks out: Ron Fowler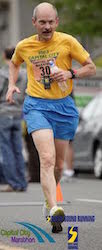 At 33 weeks out from 2016 CCM, it is fitting to recognize this next runner, who will run his 33rd CCM in May (he didn't know about the first one and an ear infection kept him from running in 1999).
Ron Fowler, 68, of Rochester, shares a story from his second CCM, which was on a different course than today's. After his first CCM in 1983, when he finished 3:13:41, he made it his goal to break three hours. "It is still exciting to remember 1984's CCM. I went through 10 miles near Briggs Nursery in 63 minutes flat, substantially ahead of my planned schedule. I backed off my pace slightly and hit the 20-mile marker on Martin Way 67 minutes later, needing only a sub-50 minute 10K to break three hours. The adrenalin was really flowing as I ran through Priest Point Park and downtown Olympia, and passed the 26-mile marker. I had the finish line at Marathon Park in sight when an overly enthusiastic spectator stepped off the curb directly into my path. Miraculously, I had just enough time to stiff-arm her back into the crowd (my high school JV football coach would have been proud of my technique). I stumbled but didn't fall and crossed the finish line at 2:59:21 for my first sub-three hour marathon and a Boston Qualifier!"
34 weeks out: Beth Le Mieux Glander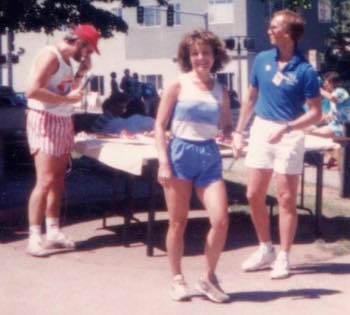 Today we hear from Beth Le Mieux Glander, who has completed 27 marathons/ultra-marathons in the 42 years she has been a runner. She credits the CCM training group with "making me the runner I am today."
Because it's #tbt, we wanted to let Beth share the experience of her first CCM: "The first CCM I ran was in 1988 and it was held in July. It was a VERY warm morning and by the end of the race it was in the high 80s. I will never forget my husband with his very large VCR camera coming up to me after I finished and asking me how I felt. My words were just a loose, random string of nothingness. Heat and 26.2 miles had taken it all out of me!" She placed fifth in her age group that year.
She remembers the CCM training group with fondness: "Back in the late 1980s, training for CCM was serious stuff. Speed work on Tuesdays, hill work on Thursdays and long runs on Saturdays. Not to mention the runs in between. And believe me, you did not miss any of those workouts unless you were on your death bed! It was tough training, but it really made for a lot of excellent runners in this community. Friendships were also forged that remain today. Some of my running partners now are those with whom I trained in those early years."
35 weeks out: Nona Snell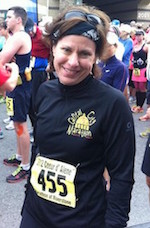 Seems fitting to lead off 35 weeks of "what has made CCM so special for 35 years" with current Race Director Nona Snell, who has either run in or volunteered for just about every CCM since she moved to Olympia nearly 20 years ago.
"I love the community feel of the events and the comradery of the runners. The involvement of everyone from the runners, to the people cheering on the course, to the volunteers is really amazing. It feels really healthy."